Advice on Planning an AGA Kitchen
Posted 16
th
October 2017 in
Blog
Getting an AGA for the first time is a thrilling experience, especially when combined with a new kitchen. I am often asked for advice or  information on planning and designing a kitchen with an AGA cooker, (or indeed a Rayburn) so here are a number of tips to help you decide on features which can make operating in the kitchen easier, plus a few pointers you might like to discuss with your kitchen designer. Not an exhaustive list but I hope you find it 'food for thought'!
Planning a new kitchen around your (new) AGA?
If your kitchen is of the standard height, 910mm, then the traditional AGA will need to go on a plinth to raise it up to worktop height
The AGA Total Control, Dual Control and AGA 60 are the same height as standard kitchen units so do not need a plinth
AGA cookers can have flues (e.g. chimney) however the latest electric models can be room vented, these do need a cooker hood though
Only a space of 60cm space then the AGA 60 (AGA 24 in North America) is for you
Changing your traditional 2 oven AGA? The new generation of AGA cookers have 3 ovens, which provides an extra Baking Oven, but is still the same dimensions as the 2 oven – gas and electricity models only
Space not an issue? A 4 or 5 oven has ovens, all at different pre-set heats so there is more capacity and convenience
If you are having tiles at the back of your AGA have these fitted before the AGA is installed so they continue down behind the cooker
Have the AGA installed before the kitchen units, so the kitchen installers can build around it – easier than manoeuvring the AGA between the units
If you want the AGA in an alcove, think about having space for worktops each side of the AGA, these are so useful for placing pans and tins out of the ovens, otherwise you will find the built-in alcove restrictive for practical use
The AGA acts as a people magnet so you may want to plan for more space around the cooker to accommodate extra bodies, when you are finishing off cooking!
Think about a space for storing the AGA roasting tins and plain shelf. This could be a tray space, deep drawer or a bespoke cupboard the same width as an AGA oven, so the oven furniture can be slid easily into them – you may want to consider a heat resistant finish, an area of discussion with your kitchen designer
Where to put the AGA saucepans? AGA saucepans have flat lids for ease of storage – deep saucepan drawers are ideal for storing the AGA saucepans or fit a pan rack above the AGA
If you are not having heat resistant worktops, consider having part of the worktop next to the AGA inlaid with slate or heat resistant tiles to provide a surface for placing hot kettles, saucepans or tins, alternatively a trivet or two (or more) may provide the answer
The heat storage AGA is deeper than conventional cookers (that's why the ovens are cavernous) so it will project forward from standard kitchen units – to overcome this consult with your kitchen designer. For example bring kitchen units up to the front of the AGA and invest in a deeper (front to back) worktop.  Bespoke kitchen specialists will also have other design ideas.

Have enough space next to the AGA to be able to place the kettle, when it is not in use.
Think about having a water supply or small sink near the AGA it is so convenient for filling the kettle or draining vegetables, cuts down walking to the main sink.
Consider having a seating area near the AGA – whether for family eating or just relaxing – so that you make use of its warmth and cosiness.
Pick out the colour of your AGA in tiles and accessories. Trying to match exactly is not that easy, as colours vary depending on material they are used upon, such as textiles v. vitreous enamel
When you first have your AGA, instruct family and friends not to put anything on the stainless steel insulated covers, they may scratch. Better still; invest in a couple of chefs pads for protection
Keep salt and pepper mills near the AGA to ensure the contents are kept dry and free-flowing.
A hook near the AGA, or above the AGA, will hold the toaster and ensure it is at hand for breakfast
Consider refrigeration, a large 'fridge will hold the AGA tins and trays – particularly useful to prepare food in advance then refrigerate until cooking is required, such as when entertaining.
Which model of AGA cooker should I choose?
The cast iron heat storage AGA is available in 2, 3, 4 and 5 oven models. Which model depends on your space available, number you cook for, the type of cooking you do and how much heat you want in the kitchen – do you want the AGA running 24 hours a day or programmed to your household's needs.
There are also AGA conventional cookers, manufactured from sheet metal. These operate just like other conventional cooker which you turn on and off and up and down, they come in various size widths and oven sizes. A Module is available, either integral (installed at LHS of the heat storage AGA) or freestanding.
Visit your AGA Showroom and explore the displays, talk to the experienced staff and other AGA owners.  The UK AGA Authorised Showrooms and Shops outlets will give a personal 'One-to-One' Demonstration which will unlock the major capabilities of this legendary cooker. Indeed to get the full flavour of the AGA, (in more ways than one!) attend an AGA Demonstration – the best to go to first is 'The AGA can do it all' which shows you different cooking methods plus hints and tips of getting the best from your AGA. Your AGA Shop will give you details of their forthcoming programme.
Related Posts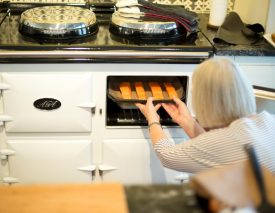 Hotplates When stir frying or cooking anything that is inclined to… »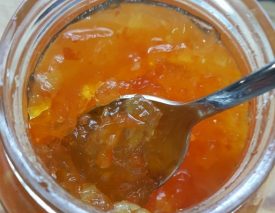 The season for Seville oranges is coming to an end, so last chance to… »