Time for a picnic?
Posted 8
th
June 2017 in
Blog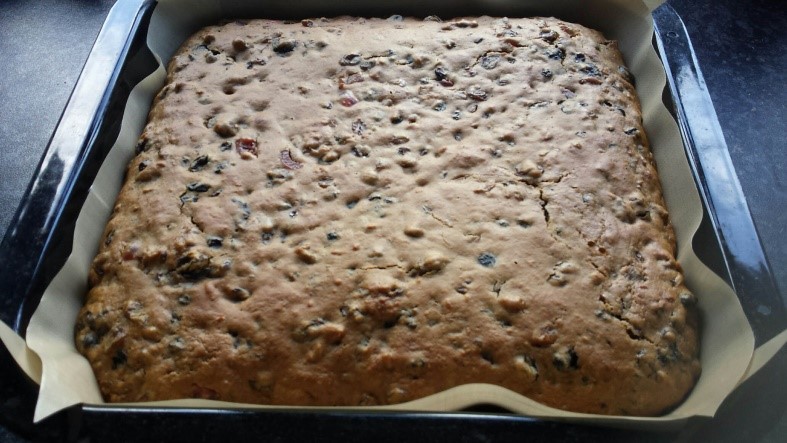 National Picnic Week this year falls between 16th and the 25th June, it's a chance to dine al fresco with friends and family, whether it be a feast or a more modest affair, it's an occasion to enjoy, may I say whatever the weather!
Indeed one of the great delights of the summer must be the picnic.  I remember, as a child, my parents would take my brother and I out on our bicycles with a picnic basket packed full of goodies.  What a delight after miles of countryside lanes to stop in a warm secluded spot and out came the spread.  Never has food tasted so good!  The fare was accompanied by a cool cordial, kept at a chilled temperature in a thermos flask, with a bottle of cider for my father.
Whether you are out cycling, walking, driving to a local beauty spot, a day at the races, on the beach or even in the garden it's time for a British picnic.   Not that a picnic is just a daytime activity there are plenty of occasions when an evening picnic is just the thing; open air events such as a Shakespeare play, Fireworks Concert or a Music festival.
Apart from the obvious food and drink I have put together an 'essentials' list for making the best of a picnic
Cooler bag or cooler box
Ice packs
Bottle opener
Napkins
Cutlery
Hamper or picnic box
Hand wipes
Bin bag for collecting up your litter to take home for recycling
Roll of kitchen paper towel
Rug with a waterproof liner
For more elegant picnics; chairs and picnic table
Insect repellent
Sun cream
Sunglasses
Portable barbeque – if allowed
Camera
Torch (you never know!)
Binoculars
Now to the stars of the picnic, the food and drink.  Cater for those who don't eat meat by making a quiche with artichoke hearts and sun-dried tomatoes strewn over a pastry case, scatter with chopped parsley and then cover with a savoury custard made with 300ml fresh cream and 3 free range eggs. Sprinkle with a grated mature British cheese and bake for about 25 minutes at 200°C.  Allow to cool and carry to the picnic in the flan dish.  AGA and Rayburn owners bake the quiche on the floor of the Roasting Oven to ensure 'no soggy bottoms'!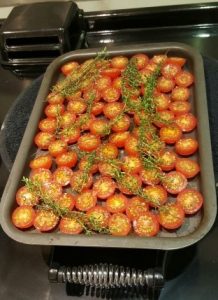 Have you tried drying or slow roasting your own tomatoes?  It's not difficult, cut small sweet tomatoes in half place on a baking sheet, season and sprinkle over some grated garlic and fresh thyme, drizzle over a little rape seed oil.  Slowly dry at a low oven heat for 4-6 hours.
Carry salad and meat in separate containers then mix together on site, such as a chicken and pasta salad, add olives to the salad for added flavour and colour, there are several delicious mixtures to choose from.  New potatoes can be lightly mixed with a wasabi mayonnaise to give a slight bite and piquancy.
Nothing finishes off the traditional British picnic than a slice of cake.  Make your own fruit cake, (always a winner for me!) or brownies are excellent – nowadays I use gluten free self raising flour (Dove's) for the chocolate brownies so all my friends can enjoy them.  Either serve the brownies as they are, or cut into equal sized pieces and top with clotted cream and a raspberry to make them a 'just dessert'!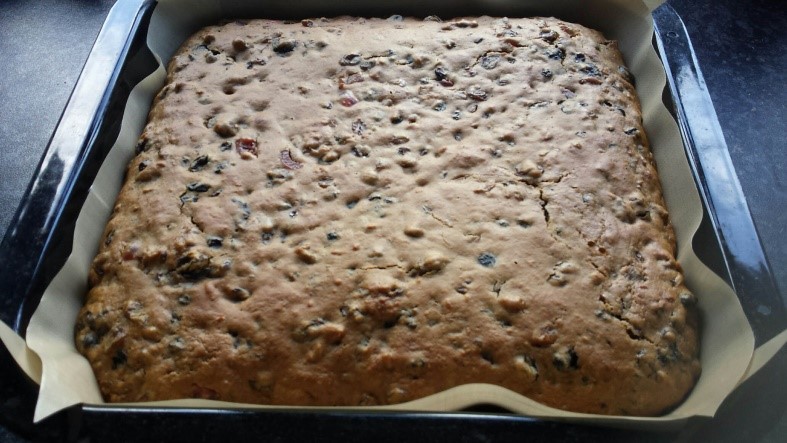 Make one big fruit cake traybake, cut into pieces and pack before departure!
Related Posts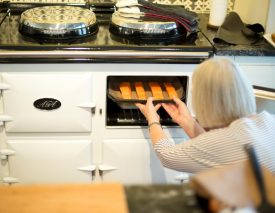 Hotplates When stir frying or cooking anything that is inclined to… »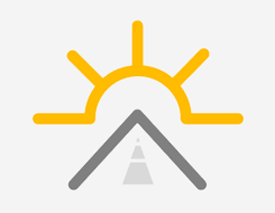 Getting an AGA for the first time is a thrilling experience, especially… »